Volume - 8
---
Volume - 7
---
Volume - 6
---
---
---
The articles in Veterinary World are open access articles licensed under the terms of the Creative Commons Attribution License which permits unrestricted use, distribution and reproduction in any medium, provided the work is properly cited.
---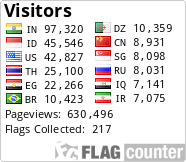 ---
We would like to express our greatest appreciation to our reviewers. From January 1, 2014 to December 31, 2014, Veterinary World benefited from the comments and insights from 251 reviewers from 50 countries. We sincerely thank them for their time devoted and effort which contributed to the improvement of Veterinary World.
---
Veterinary World
---
Aims and Scope: Veterinary World publishes high quality and novelty papers focusing on Veterinary and Animal Science. The fields of study are bacteriology, parasitology, pathology, virology, immunology, mycology, public health, biotechnology, meat science, nutrition, gynecology, surgery, genetics, prion diseases and epidemiology. Food animals, companion animals, equines, wild animals, laboratory animals and animal models of human infections are considered. Studies on zoonotic and emerging infections are highly appreciated.
All articles published by Veterinary World are made freely and permanently accessible online. All articles to Veterinary World are posted online immediately as they are ready for publication. All articles will be assigned a DOI number (Digital Object Identifier) whereby they become searchable and citable without delay.
---
Audience: Veterinary World readers represent education, industry and government, including research, teaching, administration, veterinary medicine and technical services in more than 155 countries. Veterinary World is of interest to those in veterinary medicine, infectious diseases, public health, parasitology, food science, epidemiology, immunology, virology, bacteriology, nutrition, pathology, physiology, gynaecology, wildlife.
---
English language editing: English language editing will be done by experts after receipt of article processing charge. However manuscript must be of good quality English at the time of submission, otherwise it will be rejected at the initial stage. The English language editing will be done free of cost.
---
Article processing charge for each accepted article for the year 2015 :
INR 4500 for Indian/USD 100 for abroad. There is no submission or other charge.
---
Veterinary World search engine
---
International Journal of One Health (www.onehealthjournal.org)
Publisher- Veterinary World
Call for papers
Topic includes agro-bioterrorism, animal science, antimicrobial resistance, bacteriology, biosecurity, bioterrorism, climate change, comparative medicine, disaster management, ecology, entomology, environmental health, epidemiology, food science, food security, global trade and commerce, health communication, human health, immunology, infectious disease, nutrition, occupational health, parasitology, pathology, physiology, public health and public policy, toxicology, veterinary science, virology, wildlife protection, zoonoses etc.
Please send pre-submission queries to editoronehealth@gmail.com
Submit your manuscript online at http://my.ejmanager.com/ijoh/
---
---
Research

(Published online: 25-01-2015)

Associations of farm management practices with annual milk sales on smallholder dairy farms in Kenya -

Shauna Richards, John VanLeeuwen, Getrude Shepelo, George Karuoya Gitau, Collins Kamunde, Fabienne Uehlinger and Jeff Wichtel

Veterinary World, 8(1): 88-96
---
Research

(Published online: 24-01-2015)

Chemical composition of solar dried blood and the ruminal content and its effect on performance of Japanese quails -

Jyotiprabha Mishra, Robinson J. J Abraham, V. Appa Rao, R. Asha Rajini, B. P. Mishra and N. R. Sarangi

Veterinary World, 8(1): 82-87
---
Research

(Published online: 24-01-2015)

Pathology and molecular diagnosis of classical swine fever in Mizoram -

David Malswamkima, T. K. Rajkhowa, Rajesh Chandra and T. K. Dutta

Veterinary World, 8(1): 76-81
---
Research

(Published online: 24-01-2015)

Seroprevalence studies on animal chlamydiosis amongst ruminants in five states of India -

R. Chahota, S. Gupta, B. Bhardwaj, P. Malik, S. Verma and M. Sharma

Veterinary World, 8(1): 72-75
---
Research

(Published online: 21-01-2015)

Evaluation of pesticide residues in human blood samples from Punjab (India) -

Jasbir Singh Bedi, J. P. S. Gill, P. Kaur, A. Sharma and R. S. Aulakh

Veterinary World, 8(1): 66-71
---
Review

(Published online: 17-01-2015)

Japanese encephalitis: Challenges and intervention opportunities in Nepal -

Shristi Ghimire and Santosh Dhakal

Veterinary World, 8(1): 61-65
---
Research

(Published online: 17-01-2015)

In vitro antibacterial effect of Withania somnifera root extract on Escherichia coli -

Mamta Kumari and R. P. Gupta

Veterinary World, 8(1): 57-60
---
Research

(Published online: 13-01-2015)

Isolation of Canine parvovirus with a view to identify the prevalent serotype on the basis of partial sequence analysis -

Gurpreet Kaur, Mudit Chandra, P. N. Dwivedi and N. S. Sharma

Veterinary World, 8(1): 52-56
---
---
Since 09-02-2013
---
Editor-in-Chief:
Dr. Anjum V. Sherasiya
E-mail:
editorveterinaryworld@gmail.com
---
Publisher :
Veterinary World
Star, Gulshan Park, NH-8A, Chandrapur Road,
Dist. Rajkot (Gujarat) India
---
Article statistics
Jan. 2014 to Dec. 2014
Submitted articles: 609
Accepted articles: 225
Rejected articles: 304
Articles under-review: 80 Acceptance rate: 36.95%
Jan.-2013 to Dec.-2013
Submitted articles: 404
Accepted articles: 137
Rejected articles: 267
Articles under-review: 0 Acceptance rate: 33.91%
---
(list updated on 02-01-15)
(Veterinary World has
been cited by many high impact factor journals
i.e. Lancet and other)
---
---
180 countries engaged in promoting animal health and welfare worldwide
The World Assembly of national Delegates of the World Organisation for Animal Health (OIE) met for the 82nd time in May 2014 to consider and adopt the new intergovernmental standards and guidelines that contribute daily to improving animal health and welfare around the world.

More.......
Bernard Vallat
OIE Director General
---
Indexed by
Academic Journals Database
AGORA
AGRICOLA
AGRIS
British Library
CABI
CAS
DOAJ
EBSCO
Gale
Google Scholar
HINARI
Index Copernicus
Index Scholar
Indian Animal Science Abstracts
Indian Science Abstracts
JournalSeek
Open J-gate
ProQuest
Scopemed
SCOPUS
Ulrich's Periodicals Directory
---